BORED TOUR DIARY
By Dave Thomas

Hooray! Here we go back to Europe for another tour, seems we do this every 5 years. In '90 the first time, there was myself Buzz Munday, John Nolan and Tim Hemensley. Supporting our first 3 releases. A 6 week tour that was lots of fun but very long. After that Tim and John leave and later form the Powder Monkeys. The next time it's myself Russell Baricevic, Mark Stacey, Matt Randall and fellow Aussie band Rootbeer, another 6 weeks and mega fun and good times only downer is the last week in England but fun anyway.

So now this time finds myself Buzz Munday and new boy Ben Watkins from the band Warped who are releasing a new album on Cargo soon. Stripped down to a rockin' 3 piece, Russell and Matt having to pull out due to work commitments. This time we are touring to support the release of 'Chunks 88-94' the best of Bored!.

I meet up with Buzz and Ben in Bali, I am now living in Sydney we leave Australia on different flights. Touring with us is Luke Roberts, a friend who will be doing merchandise and helping out. Luke books the Tote in Melbourne and helped book the last shows we did in Melbourne. We have known him for a long time. Also on board is another friend Tom who by accident is on the same flight to Frankfurt, he ends up hanging out with us for a few days .....the party starts now!!!!!!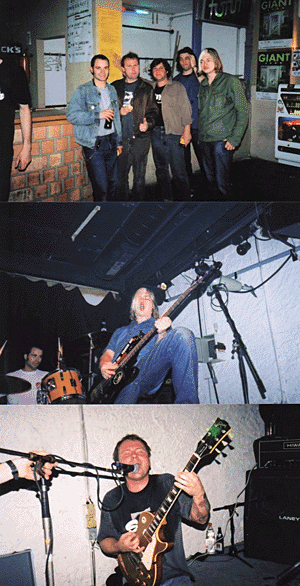 Top to Bottom:
w/ Mike Maraconda (Devil Dogs/Raunch Hands
Ben & Buzz - the rhythm section
Dave drunk - can't play for shit
After 36 hrs we land in Germany and meet Michael 'Fussball Meister' Schuster at the airport lots of greetings and then we are of to a football match with his friends, just what we need! It is about 9 in the morning and we are very tired. We arrive at the football ground and start to drink beer. Buzz and Luke get roped into playing for the Cargo Records team, Me and Ben drink and laugh at them. Luke tries too hard and is sick he does not look good. Game over. We spend the first night at Michael and Katrins new place and are awakened early Sunday morning by the ringing of bells from the church across the road. We decide to go to Amsterdam, we hear they have good frites! I drive the van there and we hit the red light district, check out the window shopping and retire to a bar where we get stoned and drunk. Three hours later we leave and do more window shopping, Ben's tongue is hanging out and his streak of blond hair is a real winner with the ladies. We find an overpriced dump to sleep in and head back out in search of frites!
12.9.00/Koln
Tonight we do our first show in Cologne with the Cellophane Suckers and Aerobitch from Spain. It is really hot and the club 'The Underground' is a sweatbox. I hate first gigs I always play shit, I think it always takes a couple of shows to relax and really start to rock out. The show turns out okay. Aerobitch are a cool band from Madrid and really rock out they love the Detroit stuff and do it well. The Suckers who I had seen last year at the Subway festival blew me away again they are an awesome band and really get you into them by having a good time, nice guys too! We end up going to the Sonic Bar to drink until late in the morning. Mattes from the Suckers is blown away by Buzz who he does not recognize from the early albums and now calls him the 'Legendary Buzz Munday' a name that will stick for the rest of the tour. We are drunk and head back to the club to sleep.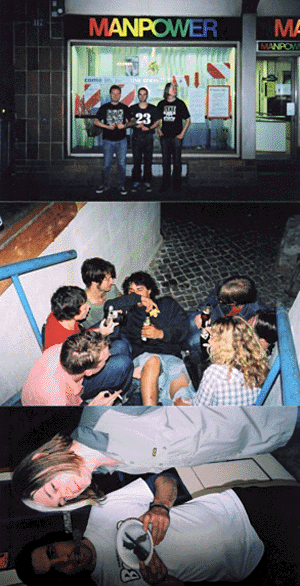 Top to Bottom:
Photo opportunity Zurich
Ayhan our driver making friends
Ben and Luke check out the pot rider
13.9.00/Hamburg
Tuesday morning we meet our driver Ayhan. He looks okay and I wonder how long it will be until I see him really drunk and passed out on the floor. He plays in a band 'X-Double Minus' and tells us all about himself. We drive to Hamburg and play down on the docks with The Sissies. It is a cool show and we rock out but play too short a set. We meet a girl from the St.Pauli fan club shop and we arrange to go there in the morning and get some stuff. Myself and Buzz retire for the evening, the others head for the Reeperbaum for more window shopping. Ben and Tom come back a little poorer!
14.9 00/Den Haag We all get St.Pauli shirts except Ben who tries to pick up the girl from last night, he comes away shirt less but with the possibility of a date in Berlin he is happy. We say good bye to Tom who is heading to Prague. On the way to Den Haag I invent a game with some x-rated playing cards I picked up back in Hamburg. I lay all the cards out on the back seat and the 4 of us take turns in picking a team, 13 cards each. This is very funny in itself. Next the object of the game is to take one of your cards and when you feel like it find a quiet place and have a wank, then return to the others and throw down your card and announce 5 of clubs or whatever the card was. The first person to get through their team is the winner. We all think this is a great game and cant wait for the next toilet stop, Ben wants to start in the van! Only three days and we are already doing this I wonder what will happen next. We arrive at the gig it looks like a squat and there are more bands playing than booked. Someone has fucked up. It is a bad load down stairs and all the bands want to use our stuff, lazy cunts. One band we play with is The Beserkers they are really cool, really Ramones/Johnny Thunders punk rock they are good fun and are crazy motherfuckers too! There was some Slovenian band who were the worst band ever and they fucked off before loading out ...the pussies! The promoter wants us to stay at some squat we get there and decide to drive back to Wuppertal to Michael and Katrins. The squat was a dump. Wank score Ben and Dave 2 ,Buzz and Luke 0.

Top to Bottom:
Our tour bus thanks VW
Luke (Mr. Merchandise) - nice display
Last drinks lastever after gig party for Bored! No, it's not a gay bar
15.9.00 Solingen/Cobra
A real cool place we play with Aerobitch again they really rock. The promoter loves Australian bands so we play like it. Turn up real loud, fuck around, make bad mistakes, crack jokes, strings break, etc. etc. it was the best show so far! We get drunk hang out with Aerobitch and head of to Macdonalds for some Barbi meals.I tell Michael it is not a good idea to go through the drive through. I am right but it was very funny,no Barbi meals, only Snoopys.
16.9.00
Dont remember!
17.9.00/BelgiumW/Groovy Ghoulies/Marky Ramone's band/Tabascos & others.
This place was a sweatbox, it was small, no ventilation but we played great. Markys band were having fights with another band over their religious beliefs, they were both shit. The Tabascos and the Ghoulies were pretty cool though. Afterwards we hung out with the promoters from the Lintafabrik real nice guys who we had met 10 years ago when we first toured. They were like 16 or something they had some photos from then but forgot them, too bad. Wank score Dave 3, Ben 5, Buzz 1, Luke 2.
18.9.00 Dortmund with Gluecifer/ Gazza Strippers.
I was really looking forward to this show but I played like shit, Gluecifer had covered one of our songs and I really wanted to play a good show but it didn't happen, we had a good time anyway it was nice to meet those bands. Gluecifer are a real entertaining band I think the other gutarist not Poon is a great player. Capt. Poon introduced himself to Ben whose nick name is Lightnin' Boy but he couldn't say it to Poon and just said 'Hi My name is Ben'. Poon in Australia means pussy like 'sweet poon tang', I don't know why he calls himself that - it's kind of dumb.
19.9.00 Kassel/Some shit venue
We play to a few people and the Beserkers this was the only good thing about it. The promoter didn't even show and then we stay at his place, a bad night.
20.9.00 Freiberg /Kalli Biermann's party/KTS
This is a great night, lots of people we play really good and Kalli even sings I Wanna Be Your Dog with us - or was it TV Eye? ......too drunk! Kalli for those who don't know does a radio show in Freiberg he loves Aussie bands and knows more about them than most Australians. The Beserkers also play along with some others who I am sorry but cant remember their names ....they were real good as well. There was some trouble at the end of the party with some stupid drunk guy. We sleep up stairs and pretty much drink ourselves stupid. I remember Mushrooms and some very fucked up people ..... Wank score Dave 4,Ben 7, Luke 3, Buzz 1.
21.9.00 Basel
Switzerland and we play at a club called AZ the promoter I remember from 5 years ago from another tour. His name is Michael. We play by ourselves so we play every thing we know. Ben and myself end up breaking a few strings so we tell jokes and people laugh, I think of becoming a comedian. We stay up drinking with Michael until the sun comes up. I see Ayhan pass out this time at a table in a plate of food. Kalli has come with us and retires early as he has lost his voice, he has not slept since yesterday. I think Ben and Buzz go to a Rave or something.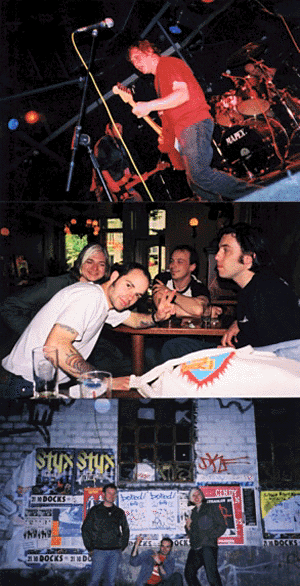 Top to Bottom:
Psychos with Maraconda on guitar - great show
Ben, Buzz, Tom & Luke in Amsterdam
Outside venue in Hamburg
22.9.00 Zurich/Sanzibar
In the morning I awake to see Kalli sitting up in his bed covered in what looks like shit and he is laughing, I don't know where to look. He holds up a chocolate bar that he has slept on and has melted all over himself and the bed it looks really bad! I wish I had some film but Ayhan got trigger happy with my camera last night. We have breakfast and decide to wait for the Cosmic Psychos who are playing here at the club, Buzz and I go for a walk. When we get back we have a beer with the Psychos and head for Zurich. The Sanzibar is very small but heaps of people turn up and we play a great show by ourselves again. This show really rocks and we get free drinks all night. Ayhan passes out during some cocktails. I can't remember getting to our sleeping place. A friend of ours Scott turns up gets so drunk he can't talk and falls over, joins us for the next 10 days. It is always good to have some one new along for the ride as they become some new entertainment.
23.9.00 Bern
We play at what seems to be a youth club in the middle of a sporting field it is called a 'shitzenhaus' it was a pretty bad show from us but the main band The Feebles really rocked so we had a good time. Buzz Munday also smoked some pot and then was dancing and taking trays of food out and giving them to people. Very funny!
24.9.00 Wangen/Tonne
This gig was organised by our driver Ayhan it is his home town and his little brother books the club. We are really tired especially Luke who looks like he will pass out at any time. The cops come cause it is to loud. We stay at Ayhans girlfriend Tanyas Grandmothers house in the country. It is really nice and quiet we watch the Olympic opening ceremony replay and go to sleep.
25.9.00 Freiberg/KTS
Back at the KTS. We meet up with Kalli again and play by ourselves. It is a real good show and quite a few people turn up. KTS is a real cool place.
26.9.00 Stuttgart/Lime Light
We play with an all girl band from Sweden I don't remember what they are called but they were Christian rockers or something,they sounded like the Ramones. They were under 18 and had tattoos, I asked them why if they are Christians and under 18 how do they get tattoos they said they get a note from their parents. Oh well at least they don't drink......yet! We play good but my amplifier blows up in the last song. We stay with the promoter who is very weird .... I am glad to get out of there. Wank score Dave 5, Ben 10, Buzz 1, Luke 3, I think we give up here. Ben is obviously the champion.
27.9.00 Jena /Rosenkeller
A cool venue in Jena looks like Geothe lived here. It is a cellar some 600 years old and a very hard load downstairs. We play by ourselves again and play pretty good they want more and we do a few real old songs. I am glad to finish as I hate being underground. I am really getting tired and find it hard to drink beer I go to the hotel, the others go to a bar where Scott tries to teach a busker how to play Little Suzi.
28.9.00 Bielefeld/Forum w Cosmic Psychos & Mobile Homos
The show we have been waiting for, The Forum. I think it is the best venue in Germany and the people there are real nice and cool. We all get really drunk with the Psychos. We never play with them at home so it is good to do this show. The Homos play first and are pretty cool. We play the best show so far. The Psychos rock too! Mike Maraconda is playing guitar for them and it is really great for me because I love his previous bands the Devil Dogs and Raunch Hands ...Fuck we drink a lot. The Psychos have a big tour bus a "Niteliner" It is good for a party. We stay at a hotel and meet back in the morning for breakfast......glad I made it through that one alive!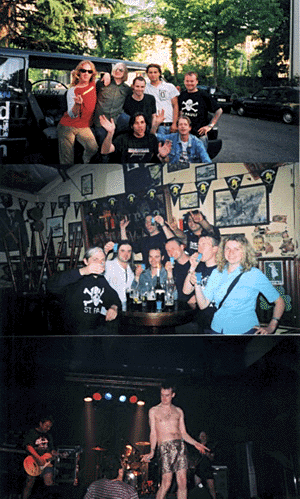 Top to Bottom:
Bye bye Freiberg with Kalli and Scott
More last drinks with Mike and Rachel
Pants down with Mike "thank god for wanks" Keane.
29.9.00 Berlin/Razzle Dazzle
Really looking forward to Berlin but it was a shit venue and the promoter ripied us off. None of our friends had heard of the place before. We played with the Suckers so that was cool. Two friends Mike and Rachel, from home who are in London came over to see us. It was good to see them, Mike sings a song on Chunks so we got him up but he was too drunk and could only take his clothes off. He is a very funny guy so he was very entertaining for us for the next few days. Everybody except for Buzz and myself went out drinking. A funny thing happened when we left the club which is right across the road from the old Berlin Wall, there was a locked chain across the exit and we could not get out. I got a long steel pole and smashed the lock so we were free to go. It was funny because it was right in front of the Wall and I felt like tackling that next..........you had to be there.
30.9.00 Dresden/Groovestation
Second last Bored! show again with The Suckers. I have always wanted to come to Dresden it feels like a cool place and the venue totally rocks we have a barbecue and party up big time. The suckers rock and inspire us to do the best show of the tour. Mike sings a fews songs and even Ayhan gets up and screams into the microphone. A couple of other friends from london turn up and we all get really smashed. Buzz is throwing up, Ayhan is passed out again, I thought Mattes Sucker has died and roll him on his side ready to give him mouth to mouth! Too much.........Ben loses a wanking game with the Suckers they are now the champions. Mike is pissed off because he bets 10 dm on Ben.
01.10.00 Paderborn/Limericks
It was a hard morning driving here, we all felt like shit. We said good bye to Scott who was off to Prague, he had had enough. I think he was blind drunk every night. Limericks is an Irish pub downstairs, we all wished Dresden had been the last show,it was the best and this one the last ever Bored! show will not be, we are too fucked! So we play I am getting electric shocks from the microphone, my guitar sounds shit, but we make it through and people have a good time. The owner keeps us here all night drinking and doing stupid stuff. Ayhan is crazy drunk and when Rancid comes on the speakers he picks me up and carries me around on his shoulders then drops me ouch! and then moshes by himself pouring 2 beers over his head,very funny!! We end having a great night. It was a good show after all,for the last time. Ben has passed out in the van and Luke has dissappeared, we find him the next day locked in the club. He had passed out under a table and no one saw him. Ayhan is still drunk so I drive back to Wuppertal where we spend the next couple of days. We say good bye to Mike and Rachel who have been with us for 3 shows but they feel like it was a week. Ayhan leaves for Munich. We all became good friends with him and it was sad to say good bye. I hope we see him again. I hope he does the tour with Ben's band Warped.
4.10.00
We fly home. Garuda airlines suck we have a stop over in Bali for 12 hours. Luke is meeting his brother and staying for a week. We go to their Hotel and swim in the pool it is weird now we are in this tropical place and yesterday we were in Germany. I am looking forward to getting home I miss my girlfriend, Buzz wants too see his wife and kids and Ben wants to go to the Punters club and pick up chicks ...... We had a great time thank you to everybody .................YEAH!!!!!!!!